Tag Heuer - New Sponsors for the Winter Championships in Nassau
Considering Sailing in Nassau this April? Maybe this is just the incentive you need:
From Franny De Cardines, "As the Commodore of the Royal Nassau Sailing Club, I would like to take this opportunity to invite you all to this year's event. I am pleased and honored to announce that Tag Heuer along with the Ministry of Tourism have become major Sponsors of the event this year, and we look forward to an exciting Regatta."
"We look forward to having you all visiting the Bahamas for some exciting and fun racing!"
Visit
www.rnsc.org
2008 Spring Snipe Bulletin
March, 2008
In the current issue of the Snipe Bulletin, read an interview with Bruno Bethlem, 5 time Brazilian National Champion and the Brazilian Nationals report; The 2007 Japanese Nationals; Building a New Wooden Snipe; a nostalgic look back at some individuals that made out class so fun and competitive,
and more...
Snipe Island Challenge, Anglesey (North Wales)

See Google MapsTM
What started out as a bit of a joke in Budworth SC bar was taken as a challenge by Mark Antonelli who decided it would be a good idea to sail around Anglesey in a Snipe in a day. After discussions with several potential crews Pauline Penny was chosen as the only one brave enough / mad enough / with suitable life insurance to join him. A date in June was set and preparations begun.
With a route in excess of 110 miles and two patches of sea, the Swellies and the Menai Straights, which would test the most experienced helm in a big boat with gps and life raft, many thought that in a 15 foot dingy with no gps or onboard toilet they were mad. Those that know them know they are.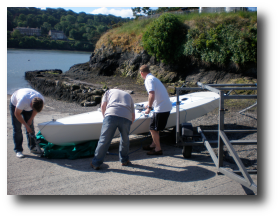 Preparations included detailed analysis of wind, waves, tides and Google maps with the assistance of fellow Snipers and experienced helms: Roger Barns, Philip Barnes and Neil Martin. As motivation, or possibly in advance of needing them, sponsorship for the RNLI (pdf) was raised in excess of £1500 and modern technology in the form of borrowed VHS radios.
With a favourable weather forecast of sunshine, moderate force 4 -5 winds, and a drysuit borrowed from Ben Ditchburn for Pauline (better safe than sorry) they set out from home early on 4th June. Their plans were nearly stopped by roadworks on the A55 but luckily (or unluckily if they were having second thoughts) they made their launch of 10am at Menai Bridge.
Having checked in with the Coast Guard they were off on their clockwise navigation of the island starting with a tricky bit through the swellies between the Menai and Brittania Bridges. All went well although the gusty force 5 - 6 wind quickly tired both Helm and Crew. Once around Abermenai Point things calmed down and Helm and Crew has chance to relax and do a bit of sunbathing before reaching South Stack at around 3pm. Here it so very nearly all went wrong...
Here the water was "funky" (Mark's words not mine!) so he decided to try a "safe gybe" using techniques learnt sailing big boat - maybe wishing he was on one not in a small dinghy…. To cut a long story short Pauline ended up under the boat in the air pocket blissfully unaware that for quarter of an hour the tide was taking them back the way they had just come. Mark finally gave up righting the boat on his own (he apparently doesn't get much practice at recovering capsizes…) and asked for Pauline's help (who won't mind me saying does!) and the boat was finally up. A little while longer was required to untangle sheets and talk each other into trying again and this time they made it through - though this time Mark didn't look quite as cool having lost his sunglasses in the process!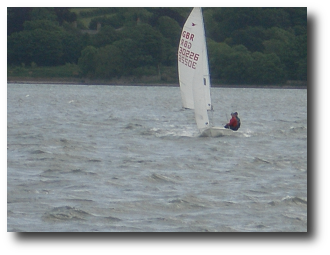 Now once again able to settle down Helm and Crew were able to enjoy afternoon tea (no jokes about Snipes and picnic baskets…) as they cruised across Holyhead Bay. Avoiding the Irish Ferries Cat, they rounded Carmel Head at 5pm, and although the wind at times threatened to die, "him up there" had obviously decided they deserved a little help as they'd made it this far and kept on blowing as well as providing a big tidal boost close to Puffin Island.
The last leg along the straights sapped the last ounces of energy and will power as the wind dropped, glow sticks were attached to port and starboard sides of the boat (Pauline was obviously still up for partying), and numerous tacks were required to keep in the channel. Finally at 10.20pm they drifted to the finish slipway to enjoy champagne, to phone the Coastguard to confirm he could keep his sponsorship money, and to Budworth SC bar where a group of supporters were awaiting news (or were disturbed from their evening's drinking depending upon your point of view….)
I'm sure we'd all like to congratulate Mark and Pauline on their Epic Journey, and all sponsorship money is now due. If you are considering "doing this at home" then a more detailed report is available from Mark or Pauline.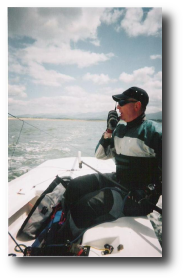 "Trip Report" by Mark Antonelli
Location: Anglesey ( North Wales)
Date of attempt: June 4th
Helm: Mark Antonelli Crew: Pauline Penny
Vessel: Snipe ~ 15½ ft hiking dinghy.
A thought hatched in the Budworth SC Bar, a Snipe would circumnavigate Anglesey in a day to raise money for the RNLI, an estimated £1,500 has now to be collected in the final figure could well be more. The forecast the night before looked favorable for predicting a S - SW wind, force 4 -5. The evening wind developing 3mph up to 7mph which would be perfect.
Arriving Menai Bridge at 0915hrs rig and pack with provisions just before 1000hrs we slipped into a sedate flow against our direction south. Being in the narrowest part of the straits with wind from the SW the direction swings and pressure rose and fell erratically. It being high water and with only needing a meter of depth to sail in we had no problem navigating the most dangerous Swellies between the Menai and Britannia bridges. As we cleared the Swellies the wind settled to a force 2 from the SW. We passed through the right hand (Island side) arch which was not a problem in a dinghy. The beat down the straits to Abermenai Point on reflection was the most tiring part, with wind rising and building to a force 5 gusting 6 we were glad to have donned waterproofs over our hikers and wetsuits.
Carl and Ryan Penny our land crew, traveled round the Island by car with launching trolley atop in case of an unscheduled stop. The tide was washing us out with a great force estimated at 5/6 knots, with no electronics on board we were not able to measure speed. Whilst the Menai Straits was energy sapping we knew that once around Abermenai Point and out onto Northern Sands eta 12 am we would get some rest.
Once on the SW coast, with an ebbing tide against us we kept close inshore to minimize this slowing influence. Sailing peninsular to peninsular with the aid of the charts and the Google Earth photos, we managed the SW coast without any rocky "run ins". At 1440hrs we arrived at Porth Diana having sailed with the whisker pole up from Roscolyn Rock. The wind had eased to a more comfortable 4+ and on the advice we headed right into Trearddur Bay to catch a back current that would help us round, we crossed the inner bay far enough to leave us with a fetch to the "fangs" before running down to South Stack.
The most unstable point of sailing being a dead run, one of the most unstable area on our route was South Stack. This combination led to the next events, 1520hrs we passed the lighthouse at South Stack, having to jibe to make North Stack. Aware of the risk of jibing and mindful of a sense of nervousness from Pauline I went for a "low risk manouver". A safe jibe is a fast one, not what I did and we capsized. This was the one mistake, one which will not happen again.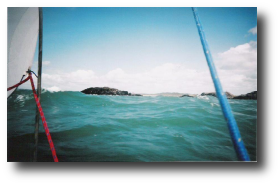 "An experienced Snipe helm Mark was sure to get her back up in a minute or so" said Ryan from the land crew, who were observing from the cliff top, trying to reassure Carl the crew's husband. Unable to retrieve the jib sheet for extra leverage, Pauline was called out from the cockpit where she was safely waiting to be scooped up as the boat righted. With the extra leverage now of the crews weight the boat was righted, Mark and Pauline both back safely in the boat.
The jib and jib sheet was seriously wrapped around the forestay and had to be unraveled. Having been capsized for a good 15 minutes we had be swept back past South Stack in turbulent water, we sailed into flatter water east of the lighthouse and whilst Mark held the Snipe up to wind Pauline balanced herself on the foredeck to unwind the jib. At this point Mark knew that asking Pauline to crew had been crucial, without her determination and courage this could have been the end of the challenge.
Having kept close to the rocks to avoid the last of the ebbing tide, the S.Westerly meant that once we passed the lighthouse on a starboard jibe the combination of; turbulent water, sailing by the lea, wind coming between the Stack and shore all resulted in us experiencing the most nerve racking moment in my 25yrs of Snipe sailing. Pauline was knelt in the centre of the cockpit over the heavy Aluminum plate, I was on the balls of my feet facing forwards, tiller in one hand, heart in the other, balancing in my mind wind direction from the audio tape tell tails on the shrouds, the risk of being swept onto the rocks and the risk of jibing in the gusty conditions. We carried precariously on a starboard jibe, sailing by the lea from time to time we squeezed the sailing angle to pass into the wind shadowed bay between the Stacks. A quick jibe and we got back out to a less shifty force 4 breeze away from the rocks.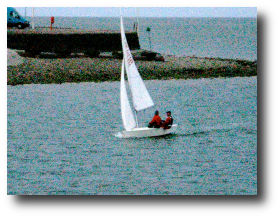 Rounding North Stack at 1600hrs (the original eta that we had informed the Coastguard of), we were faced with a starboard run across Holyhead Bay or duck inshore. To sail across to Carmel Head takes you 4.5 miles offshore but would keep us in the best tide that by 1630 was beginning to flood beneath us.
Thankfully we were able to hit the Skerries without a need to Jibe and heeded our advise to sail as close as you like to the Carmel Head. Having waved off one of the very few other sailors coming down from Skerries heading into Holyhead, we rounded at 1710, hardening up to a more easy sailing broad reach. The wind began to ease from force 5 as we continued down the North coast, we kept to the never ending mantra "come on wind, don't leave us now" and as ever it was answered with new pressure within a few seconds.
Having made our way passed the Mouse rocks we came to Point Lynas where we again decided to keep fast, crossing Red Wharf Bay point to point. Part way across looking ahead, the paler surface in the East foretold light airs as the breeze dropped to only 4 knots or so, we knew this could be the end of our challenge but again fresh pressure came. We passed Puffin Island at 1045hrs, to received a tidal boost as the currents from Liverpool and the North Anglesey island either side of Puffin Island dovetailed to a seriously confused surface.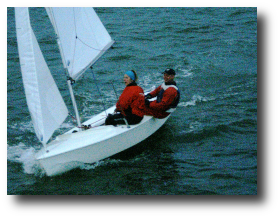 The beat SW along the strait was all about keeping in the marked channel, whilst so ever the tide was strong and tacking with the shifts to make the fastest time to finish. Once at Beaumaris Carl and Ryan were on the pier to get a couple of closer up photos. By Bangor Pier the wind had dropped to 5k and the tide had become slack. Time was running out as we clawed our way through moored boats along the Anglesey shore. Pauline broke out the red and green glow sticks that we attached to the shrouds. Passing one moored yacht, a head popped up from the companion way and exclaimed, "You don't see many of those around here". He apparently didn't know that the Snipe is the worlds most numerous hiking dinghy with no need of trapeze or spinnaker. At 1015hrs we made the finish slipway, the wind had almost dropped to nothing as had our will to go further.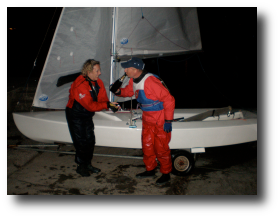 Pauline and I wish to thanks many for their help; for information and advice Roger Barnes, Philip Barnes and Neil Martin. Mailspeed Marine for the loan of Flare pack and Chart folio. Land Crew Carl & Ryan Penny and all those who sponsored the event.
Approximate distance: 110 nm. Time to complete: 12.25 hrs.
Also see
www.snipe.org.uk
and
www.budworthsc.org.uk
.
2009 Snipe World Masters (to replace cancelled 2008 event)
Oct, 2008
As the 2008 Masters World Championships were cancelled for 2008, the regatta will be sailed in Trieste, Italy at the Societa Triestina Della Vela. To be held during the week of July 8-12, 2009, the regatta will be run soon after the finish of the Piada regatta in Cervia, Italy during July 3rd through the 5th. See the
2009 schedule
for more information.
UK Snipe Island Challenge: 110 Miles in 12 Hours!
June, 2008
What started out as a bit of a joke in Budworth SC bar was taken as a challenge by Mark Antonelli who decided it would be a good idea to sail around the Isle of Anglesey in a Snipe in a day. After discussions with several potential crews, Pauline Penny was chosen as the only one brave enough / mad enough / with suitable life insurance to join him. A date in June was set and preparations begun. Read
more...
plg_search_docman
Search - Categories
Search - Contacts
Search - Content
Search - News Feeds
Search - Web Links
Search - Tags